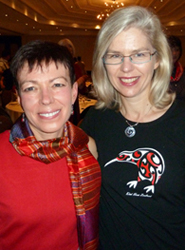 Dr. Russell has a passion for teaching, and it shows. To each learning event offered through DLR Consulting, she brings her considerable experience in the field of interpreting (three decades and counting!), shares real-world wisdom gleaned over the years, and whets participant appetites for more. She has presented at workshops, conference plenary sessions, and postsecondary degree/diploma programs.
Debra's engaging teaching style wins high praise from her audiences, and learners invariably leave her sessions armed with valuable new perspectives and recharged enthusiasm for their work. "So amazingly practical," one participant enthused after a recent presentation, "I can use this stuff on Monday. I learned so much." A pro at both curriculum and test design, Debra has a knack for tailoring her lessons according to individual learner needs, with an eye to practical application of skills learned.
Whether you're planning a one-day workshop, a full-scale conference, or anything in between, DLR Consulting can provide the expertise to make your event a success.