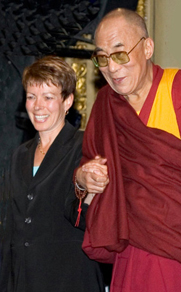 Dr. Debra Russell, the face of DLR Consulting, is internationally recognized for her pioneering efforts in signed/spoken language interpreting and interpreter education. Debra has addressed national and global audiences at forums, postsecondary events and professional conferences; her well-honed communication, interpersonal, and team-building talents invariably infuse her presentations with new insights, often stimulating lively discussion and debate.
What inspired Debra to take on the challenges of this multi-faceted field? Her involvement began some three decades ago – with a small detour. Fresh out of high school, she had her sights set on a career in rehabilitation services. Then, as fate would have it, she decided to take a sign language course in Red Deer… and the rest, as they say, is history.
Debra is passionate about quality service and ensuring consumer access to the finest interpreters possible. Her innovative thinking, keen appetite for challenge, and broad-ranging experience in the field have earned her the glowing reputation she has today. And she's not afraid to shake things up when it's time. After some 18 years of diverse experience as an ASL/English interpreter and educator in Edmonton, Toronto, Yellowknife, Calgary and Vancouver – plus completing a doctoral dissertation that shed new light on simultaneous and consecutive interpretation in the courts – she knew the time was right for a new venture. And so DLR Consulting was born in 1998. Deb has not slowed down since.
Today this dynamic, in-demand public speaker and educator has more than 200 workshops to her credit, plus an impressive list of publications spanning the past 20 years. An active member of her professional associations, she is noted for her work as president of the Association of Visual Language Interpreters of Canada (AVLIC) and her role in launching the long-anticipated Canadian Evaluation System.